Who could resist this adorable face and smile??



Daddy and his beautiful little man, my heart.

Keeping cool!!

Anybody want to play with me?



Eddie's little sisters and brother, Angelina 12, Mercedes 9, Juan 8, and Margharita 6



Grandpop big Edwin with the little man

Grandma Mary with the kids --Marissa, smiling Eddie hiding but hugging Grandma, cousin Robert lying down, cousin Gregory holding Grandma, and Marcia in the back

Can we have corn for dinner?



Eddie's older twin sisters and niece and nephew, Marissa, lil Eddie, Makayla, and Marcia



Grandpa with his only son's babies-- Marissa, little Eddie, and Marcia



Eddie's family 2004-- Daddy and stepmom Barb with all the kids and grandkids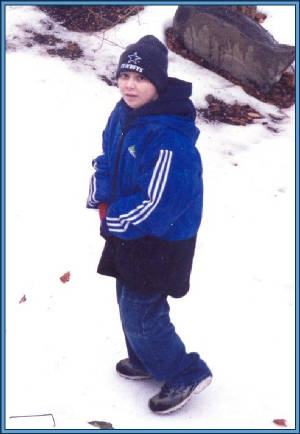 Baby, it's COLD outside!!
July 5, 2009 - Wedding of Eddie (Little Eddie's Dad) and Barb.
All of Little Eddie's sisters, brother, nieces, and nephews were present. Also, Eddie's photo and ashes were there, so he was a part of the ceremony in spirit.
Site made and maintained by Saralyn McAfee Smith for the family of Edwin Miguel Matos III. To send additional photos or memories of Eddie, write to Saralyn at: